PRODUCTS
Current Location : Product
Generation discripation .
The MoSI2 element is a dense cermet material consisting of molybdenum disilicide (MoSi2) and a glassy phase silicon dioxide (SiO2).
The element is a resistance type heating element that converts electrical energy to heat energy . MoSi2 heating elements are characterized by good heat and electrical conductivity. They have low thermal expansion and withstand corrosion and oxidation. all characterized by long life and consistent performance. element temperatures up to 1850°C (3360°F)
The elements are most frequently used suspended with the bottom of the hot down. The element consists of two cold ends (Lu) . The cold ends are twice the diameter of the hot section and are attached by a weld. The extremities of the cold ends are metallized with aluminum to provide a low-resistance contact surface to which the electrical connections are made with flat braided aluminum straps the elements are available as straight or bent elements in a wide range of shapes and sizes, .
Unique Properties
1.Higher watt loadings compared to other heating solutions up to 1850ºC in oxidizing atmospheres 30 W/cm2 compared to 15 W/cm2
2. Longer life and Corrosion resistance when cycling at high temperatures and. in reactive atmospheres and all reduced ,oxygen deficient atmospheres..
3. Fast ramping. Can be used continuously or intermittently. New and old elements can be connected in series
4. ease of replacing failed elements . High power concentration may be applied
5. High purity material .Thinner glaze layer. Improved form stability
6.comparison of surface loading.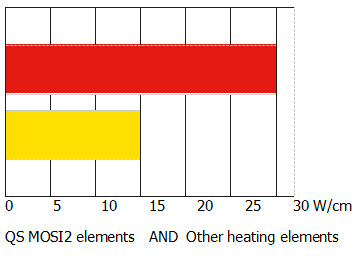 Grades
MoSi2 heating elements includes three grades with specific features for use in demanding applications and atmospheres, including nitrogen, hydrogen, vacuum and mixtures of endogas and reducing atmospheres.
Grade 1700°C.
Good heat and electrical conductivity. Low thermal expansion. Withstand corrosion and oxidation.and the other is Specially designed for working in nitrogen. offers long life at high temperatures in all reducing and oxygen deficient atmospheres.
Dedicated heating element for semiconductor
1. this product is precision maching with highter power and it can provide uniform thermal field for electric furnace
2. corresponding shapes can be manufactured based on operating requirement of customers this product can maintain a certain performance in use with long service life.
3. comparing with the metal wire it can bear greater surface load and rapid temperature increasing system(fast cooling and temperature increasing)
4.it can match with various dimensions of wafers from small size to large size namely multi-application.
5.it can ensure the elements of relevant equipment if being used under high temperature
electric furnaces for semiconductor wafers cylinder -shaped electric furnaces
Max. temperature 1700°C

Grade 1800°C.
Good heat and electrical conductivity. Low thermal expansion. Withstand corrosion and oxidation with better hot strength and form stability.and one is designed to meet the demands for clean process heating in the research and electronics industries the other is designed for a longer life of small dimension elements in temperature cycling condition with better hot strength and form stability.
Delicated heating element for TTO
1.it is specially designed for TTO electric furnace and it can bear greater surface load
2.the product has high purity and the impurity content is reduced to the utmost extent so as to ensure the cleanness of electric furnace
3.the junction state between the heating element protective layer and element matrix surface is improved through special treatment so that the protective film is not easy to fall off when using the heating element
4.the junction stale between the heating element productive layer and element matrix surface is very good so that it is very suitable for high oxidizing gas atmosphere furnaces
5.good high temperature strength and low defomationprobability
ITO target material sintering electric furnaces
Max. temperature1800°C
Grade 1850°C .
Good heat and electrical conductivity. Low thermal expansion. Withstand corrosion and oxidation and has higher purity and a surface with better adhesion
Delicated heating element for dental furnace
1.the heating element has high purity which can reduce the impurity content to the utmost extent
2. the product has good high temperature strength which can be bear greater surface load under high temperature
3. the product can adapt to electric furnaces with frequent use and fast temperature increasing and decreasing
4. the protective layer of heating elements is h=thin and compact which can avoid it from falling off during using to a large extent
precise electric furnaces having highter requirement on heating elements such as electric furnaces for dentistry
electric furnace with fast temperature inceasing and decreasing frequent use and short sintering period
Max. temperature1850°C

Special Shapes are also available….
QS MOSI2 heating elements , Half Cylinders, and Flat Panel Heaters The module consists of a high temperature ceramic fiber cylinder and a molybdenum disilicide heating element. The molybdenum disilicide is the same material we use for the U shaped heating element.
The heating element is in contact with the fiber therefore the temperature of the element is limited to 1600ºC. The highest practical muffle furnace temperature is 1550ºC. The heating module makes a neat little muffle furnace capable of rapid heat up, accurate temperature control and uniform temperatures.
The module comes assembled in various diameters and lengths. The most popular shaped module has the Moly-D element spirally wound, set in grooves, and stapled in the internal diameter inside the fiber cylinder. When it is desirable to open the furnace or muffle in two halves along the muffle axis, the heating module is supplied in half cylinders.
On half cylinders the heating elements are formed into continuous hairpins (U-shaped). The MOSI2 material is stapled to the fiber module. Both types of heating modules can be used with the axis of the muffle horizontal or vertical. For the half cylinder modules, a different staple arrangement is necessary therefore the operating position must be specific when ordering the module.
SHAPE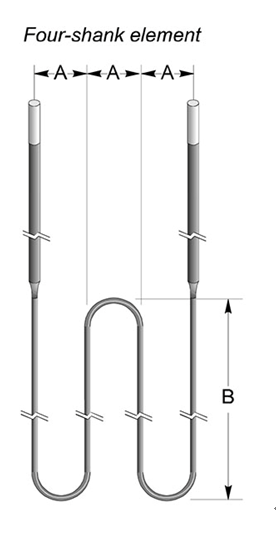 Size available.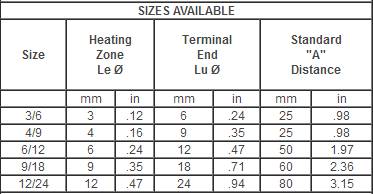 Custom configurations
In addition to MoSi2 elements in standard shapes and sizes we provide special designed MoSi2 elements according to customer needs, enabling an optimized element design for each particular application
The mechanical and physical properties

 

1700℃

1800℃

1850℃

Tensile strenght at 1550℃

 

100 MPa±25%

100 MPa±25%

Bending strenght at 20℃

450 MPa±25%

450 MPa±25%

300-400 MPa±25%

Compression strenght at 20℃

1400-1500 MPa

1400-1500 MPa

1400-1500 MPa

Fracture toughness,KIC,at 20℃

3-4 MPam1/2

3-4 MPam1/2

4 MPam1/2

Hardness, HV, at 20℃

9 GPa

9 Gpa

8 GPa

Density

5.6 g/cm2 0.20lb/in2

6.5 g/cm2 0.23lb/in2

7.0 g/cm2 0.25lb/in2

Porosity

< 5%

< 1%

< 1%

Thermal conductivity 20-600℃
600-1200℃

30WM-1K-1
15WM-1K-1

30WM-1K-1
15WM-1K-1

30WM-1K-1
15WM-1K-1

Coefficient of linerar expansion

7-8 X 10-6K-1

7-8 X 10-6K-1

7-8 X 10-6K-1

Specific heat capacity at 20℃

0.42 KJ kg-1K-1

0.42 KJ kg-1K-1

0.42 KJ kg-1K-1

Emissivity

0.75-0.85

0.70-0.80

0.70-0.80

Microstructure of a QS MOSI2 element. Grey = MoSi2 , white = Mo5Si3 , dark = SiO2

Operation temperatures

Maximum recommended element temperature in atmospheres

Atmosphere

Grade 1700℃

Grade 1800℃

Grade 1850℃

Air

1700℃

1800℃

1850℃

Nitrogen

1600℃

1700℃

1800℃

Argon, helium

1600℃

1700℃

1800℃

 

 

 

 

Dry Hydrogen, dewpoint-80#

1150℃

1150℃

1150℃

Moist Hydrogen , dewpoint 20#

1450℃

1450℃

1450℃

Exogas(e.g. 10%CO2,5%CO,15H2 )

1600℃

1700℃

1800℃

 

 

 

 

Exogas(e.g. 40% H2,20% CO)

1400℃

1450℃

1550℃

Cracked and partially burnt ammonia(≈8%H2)

1400℃

1450℃

1550℃
DELIVERY
Most sizes and types can be shipped 3 to 4weeks after receipt of an order. Emergency shipments for smaller quantities can usually be made in 2 to 3 days
Ordering
The following information is required:
Quantity Required:
Hot Zone/Cold End Diameter: 3/6, 4/9, 6/12, 9/18 or 12/24:
Hot zone length – Le:
Cold end length – Lu (includes taper):
On-center distance between legs:
Operating temperature of furnace:
Grade :