PRODUCTS
Current Location : Product
General discription
Silicon carbide is a resistance type heating element.and made from high density reaction-bonded silicon carbide or high purity recrystallized silicon carbide , that are extruded in the form of rods or tubes, before being bonded together by a process of re crystallization, at temperatures of over 2500°C (4530°F). The firing process ensures the creation of rods with strong uniform bonds between adjacent grains, and the particle size distribution is closely controlled to ensure optimum density and resistance to the process atmosphere.
Heating elements for element temperatures up to 1625°C (2927°F), available in a wide variety of standard sizes and geometries, or in customized designs to meet the specific needs of various processes and equipment. heating elements are capable of high power output, and may be mounted either vertically or horizontally. no special supports are required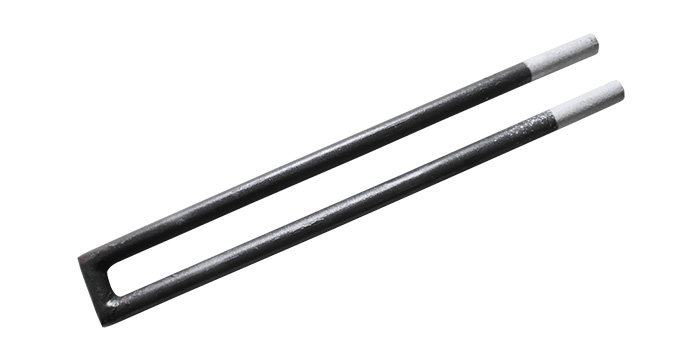 Grade 1 QS1
SiC heating Elements suitable for most applications in which silicon carbide elements are used. heating elements feature hot zones of high purity recrystallized silicon carbide, optimized for resistance to oxidation and common process gases. Available in rod or multi-leg designs. high density -- approximately 2.52 g/cm3 or 2.7g/cm3 to 2.8 g/cm3.This gives the Starbar very slow aging characteristics and high strength
Grade2 QS2
SiC heating elements designed for the most challenging applications where conventional silicon carbide elements are unsuitable. SiC heating elements feature hot zones of high density, low permeability, reaction-bonded silicon carbide, which is highly resistant to oxidation, and to chemical attack by process volatiles and reactive atmospheres. At 2.7 g/cm3, this high-density low-porosity element has an extremely slow aging characteristic and made of high density recrystallized silicon carbide, these multiple leg sic heating elements use the same hot zone and cold end material as the DH&DL type and offer a configuration that allows the electrical connections to be made at one end. The low resistance terminal ends allow for cool operation. The LRE (low resistance ends) have a high (15:1) electrical resistance ratio to the hot zone section. The first several inches of the cold ends are metallized with aluminum to provide a low electrical resistance contact surface. The electrical connections are made using flat aluminum braids held in compression to the circumference by a stainless steel spring clamp. U type sic heating elements are described by giving the overall length, the heating section length, the cold end length and the diameter
Item #

Item Name

QS leg Diameter

Ohms per Leg Hot Zone

Ohms per Leg Cold End

U-1/2-13

U-Mulitiple Leg QS,Silicon Carbide Heating Element

1/2 Inch
13 mm

0.1963 Ohms/Inch
0.00773 Ohms/mm

0.00982 Ohms/Inch
0.000387 Ohms/mm

U-5/8-16

U-Mulitiple Leg QS,Silicon Carbide Heating Element

5/8 Inch
16 mm

0.1262 Ohms/Inch
0.00497 Ohms/mm

0.00631 Ohms/Inch
0.000248 Ohms/mm

U-3/4-19

U-Mulitiple Leg QS,Silicon Carbide Heating Element

3/4 Inch
19 mm

0.0865 Ohms/Inch
0.00341 Ohms/mm

0.00433 Ohms/Inch
0.000170 Ohms/mm

U-1-25

U-Mulitiple Leg QS,Silicon Carbide Heating Element

1 Inch
25 mm

0.0500 Ohms/Inch
0.00197 Ohms/mm

0.00250 Ohms/Inch
0.000098 Ohms/mm

U-1-1/4-32

U-Mulitiple Leg QS,Silicon Carbide Heating Element

1-1/4 Inch
32 mm

0.0343 Ohms/Inch
0.00134 Ohms/mm

0.00171 Ohms/Inch
0.000067 Ohms/mm

U-1-1/2-38

U-Mulitiple Leg QS,Silicon Carbide Heating Element

1-1/2 Inch
38 mm

0.0234 Ohms/Inch
0.00092 Ohms/mm

0.00117 Ohms/Inch
0.000046 Ohms/mm

U-1-3/4-44

U-Mulitiple Leg QS,Silicon Carbide Heating Element

1-3/4 Inch
44 mm

0.0165 Ohms/Inch
0.00065 Ohms/mm

0.00082 Ohms/Inch
0.000032 Ohms/mm

4-2-1/8-54

U-Mulitiple Leg QS,Silicon Carbide Heating Element

2-1/8 Inch
54 mm

0.0150 Ohms/Inch
0.00059 Ohms/mm

0.00075 Ohms/Inch
0.000030 Ohms/mm
Physical properties
| | |
| --- | --- |
| Bulk Density | 2.5g/℃m3 |
| Porosity | 20% |
| Thermal Conductivity | 14-19w/m ℃ |
| Rupture Strength | 50Mpa(25℃) |
| Specifi Heat | 1.okj/℃(25-1300℃) |
| Coefficient of Thermal Expansion | 4.5x10-6(1000℃ |
OPERATING TEMPERATURES

SLIOCON CARBIDE HEATING ELEMENT USE BY ATMOSPHERE

ATMOSPHERES

TEMPERATURE LIMIT

MXXIMUM LOADING W/in2

MXXIMUM LOADING W/cm2

EFFECT

CLEAN DRY AIR

1150℃

Maximum

Maximum

One piece Sic element can be operated at furnace control temperatures up to 1600ºC. (Maximum element temperature is 1625ºC). The three-piece Sic element is limited to 1427ºC.

HYDROGEN
DP+75°F
DP-60°F

1300℃
1300℃
1093℃

30
30
30

5
5
5

An atmosphere which contains any percentage of hydrogen whatsoever will react with silicon carbide if the temperature exceeds 1300ºC.

AMMONIA

1300℃

30

5

Reduces silica film, Frorm CH4 from Sic

NITROGEN

1370℃

30

5

Form insulating Silicon Nitrides

PURE OXYGEN

1315℃

25

4

Faster oxidization than in air. Use LMA infusion glaze cotated starbar elements, or type TW, SE,SER or SEU

CO2

1500℃

25

4

No effect,may deposit Carbon

CO

1540℃

25

4

No effect

ARGON/HELIUM

1700℃

Maximum

Maximum

No detrimental effect

WATER DP 60°F
50°F
0 °F
-50 °F

1095℃
1200℃
1370℃
1540℃

30
45
40
45

5
5.5
6.5
7

Reacts with Sic to form Silicon Hydrates ,Use LMA infusion glaze coated Starbar elements, or type TW,SE,SER,or SEU.

HALOGENS

700℃

25

4

Attacks Sic and SiO2 reducing

HYDROCARBONS

1315℃

20

3

Hot spotting from C pick-up

METHANE

1315℃

20

3

Hot spotting from C pick-up

DRY EXOTHERMIC GAS

1400℃

Maximum

Maximum

Dependent on composition

DRY ENDOTHERMIC GAS

1250℃

Maximum

Maximum

Dependent on composition

VACUUM

1205℃

25

4

To 7 Microns -Below vaporizes Sic. Short term use only

S and SO2

1315℃

25

4

Attack Sic
For atmospheres containing water vapor, alkali metal vapors, flux vapors, or oxygen enrichment, we recommend the use of QS3 glaze coated elements
Glazes and coatings
Special glazes and surface treatments have been developed which can extend element life in various operating conditions, particularly where chemical attack is a problem. Details of these will be provided on request.
QS offers a special coating for certain severe atmosphere applications
.QS1 Coating
This coating consists of a complex silicate glass specially formulated to provide a high degree of protection against chemical attack in atmospheres containing water vapor, alkaline metal vapors, flux vapors and in applications that utilize oxygen enrichment, including; non-ferrous metal melting and holding, glass melting and refining, brazing, sintering of powdered metal components, and pre-sintering of powders for lithium ion battery cells.
QS2 Coating
This coating is a silicon carbide/silica composite. It is applied in 2 parts, an organic based pretreatment followed by a mix of silicon carbide and colloidal silica. The coating is cured to provide an adherent coating that covers the outside surface of the heating element. The organic portion burns away during the cure step to leave SiC and SiO2. This coating acts as a physical barrier to chemical attack on the heating elements.
QS3 Coating
This coating is a zirconia/silica based coating. When applied to the hot zone, this coating acts as a physical barrier to attack. When applied to the cold ends, the coating prevents the elements from sticking to the furnace refractor
SERVICE LIFE
All silicon carbide elements increase in resistance during their life in operation, This characteristic of increasing in resistance is called aging. Aging is a function of the following:
•Furnace temperature
•Element surface loading in W/cm2
•Atmosphere surrounding the elements
•Mode of operation – continuous or intermittent
•Operating practices and power control methods used
•Operating and maintenance technique
As a general guide, QS SIC elements may increase in resistance at a rate of about 5 – 6% per 1000 hours operating continuously in clean air at a temperature of 1400°C ( and at about 3% per 1000 hours use at 1000°C . It should be noted that small changes in operating conditions can alter these rates considerably
INTERCHANGEABILITY
QS SIC are premier grade high performance silicon carbide elements, and we are the only high quality silicon carbide heating elements manufactured in theCHINA.
Elements can also be manufactured in special sizes and resistance values to replace elements supplied by other manufacturers in Asia and Europe. It is important to provide the nominal electrical resistance when ordering Sic elements.
EASE OF REPLACEMENT
SIC element can be replaced while the furnace is at operating temperature. The power to the elements being changed should be shut off, the spring clips and aluminum braid released, and the old SIC removed. The new SIC should be inserted smoothly through the hot furnace with sufficient speed to insure that the aluminum is not melted off the terminal end but not so fast as to cause thermal shock
AVAILABILITY
SIC can be shipped from stock, or two to three weeks after receipt of an order. In an emergency we may be able to produce more quickly.
CUSTOM CONFIGURATIONS
Special sizes and shapes are available. Cold ends can be different lengths. This, for example, would be applicable for furnaces with arched roofs that require longer cold ends through the roof and shorter through the floor. Another modification is a multiple-temperature hot zone. This, for example, would be helpful to get additional heat energy into the lower, more densely loaded tunnel kiln. While this special modified hot zone may not create a specific temperature differential, it does offer a convenient way to get more or less heat energy.
SUPERIOR PERFORMANCE
SIC elements will give you superior performance due to their high density -- approximately 2.52 g/cm3 .or 2.7 g/cm3to2.8 g/cm3 ,This gives the SIC elements very slow aging characteristics and high strength.
Ordering
The minimum information required when ordering QS SIC elements is as follows:
Element type:
Diameter, mm (ØA)
Hot zone length, mm (B)
Cold end length, mm (C)
Leg center distance, mm (D)
Slot position* (E)
Nominal resistance, Ω